Server Infomation
How do I play Minecrafting?
To play Minecrafting we recommend Minecraft Version 1.18.1. You can select different versions of Minecraft via the main menu when loading the launcher and select 1.18.1.
Vote For Minecrafting
A brief description of Minecrafting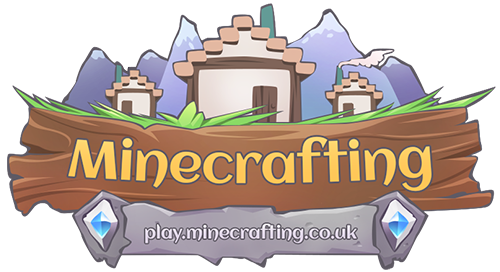 A different kind of server

Minecrafting has been around for over 6 years, and has slowly evolved from a small private server, to a much larger setup on a dedicated server. Rather than forcing players to buy additional perks, our server keeps to the basics, so you can once again enjoy playing multiplayer in a peaceful server. The server has been rebuilt over the past year, building upon experience gained over the last couple of years. We are now ready to start welcoming players back to the server, so come and check us out.

- Features -
Bank
Dynmap
Jobs
mcMMO
Towny
Shops
PvE


Come and join us, and create the town of your dreams!
How popular is Minecrafting?
Currently there is 0 online out of a possible 100. The number of votes this month is 5 since the 1st. Voting allows you to get rewards for free.
Most Recent Voters
Below are the five most recent players to vote for Minecrafting and recieved a reward.
| Minecraft Player Username | Score |
| --- | --- |
| IssionissI | |
| Jossta | |
| alekkat | |
| IssionissI | |
| Issionissi | |