Server Infomation
How do I play SemiSurvivalCraft?
To play SemiSurvivalCraft we recommend Minecraft Version 1.18.2. You can select different versions of Minecraft via the main menu when loading the launcher and select 1.18.2.
Vote For SemiSurvivalCraft
A brief description of SemiSurvivalCraft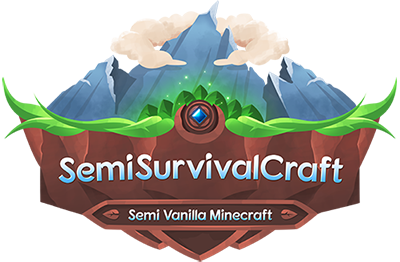 SemiSurvivalCraft

Welcome to SemiSurvivalCraft! We're a Semi Vanilla Survival Minecraft server with Grief Protection, Claims, RTP, Set Homes, No economy, and more! We support both Java and Bedrock version of Minecraft so you can join and play on any device. We aim to provide the best Semi Vanilla Survival Minecraft experience with a few extra protections and amenities.

❇ Semi Vanilla
❇ Multiple Sethomes
❇ Random Teleport
❇ Land Claims
❇ Grief Protection
❇ TPA / Player Teleport
❇ Hard Mode Server
❇ Large Biome Generation
❇ No Economy Plugins
❇ Free Ranks
❇ Vivecraft Supported: Minecraft VR Server
❇ Crossplay: Java + Bedrock
❇ Proximity Voice Chat
❇ Always Stay Up to date And a whole lot more!
And a whole lot more!

If your playing on Java Minecraft join us at play.semisurvivalcraft.com

For all other devices (Bedrock accounts, Windows 10, Mobile, Console, etc...) join us at play.semisurvivalcraft.com Port 19132.

Need Help? Join us on discord! https://semisurvivalcraft.com/discord

Thanks for playing SemiSurvivalCraft!
How popular is SemiSurvivalCraft?
Currently there is 18 online out of a possible 50. The number of votes this month is 1 since the 1st. Voting allows you to get rewards for free.
Most Recent Voters
Below are the five most recent players to vote for SemiSurvivalCraft and recieved a reward.
| Minecraft Player Username | Score |
| --- | --- |
| Anonymous | |
| Anonymous | |
| Anonymous | |
| Anonymous | |
| Anonymous | |
Best Minecraft Servers
play.hearthcraft.net HearthCraft is an economy SMP with a 0% pay-to-win store (verify for yourself!) that has been making the best experiences since October of 2018. We're experts in bringing...
#1 Arrising Minecraft Server! Welcome to Schway Hub! Bedwars, Pvp Practice, Hunger Games, Party Games Bedwars (With 1.8 pvp) Pvp Practice (With 1.8 pvp) Hunger Games (With 1.8 pvp) Party Games...